TikTok and Instagram food trends ranked by an expert 
The rise of visually stimulating social media platforms such as TikTok and Instagram have brought with them some very interesting (and some slightly questionable) food trends to our screens and plates. IMHO, for some of these trends, actual taste has been sacrificed at the altar of viral sensation. So aesthetics aside, I'm going to honestly rate these food fads from 1 to 5. 
Baked Feta Pasta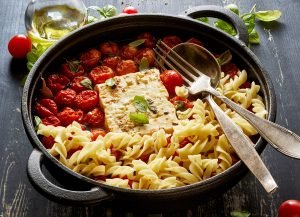 Unless you've been living under a rock (and I don't blame you, if you have), you will have seen baked feta pasta showcased on phone screens around the world. It was originally created by a Finnish food blogger, which reportedly caused feta shortages in countries around the world. 
The recipe involves roasting plenty of cherry tomatoes with a block of feta, stirring in some chopped garlic and basil, then adding it to your cooked pasta (which, for the record, were originally bow-tie shapes).
I'm going to level with you, I don't like it. Feta just does not work as a pasta sauce. It's too strong a taste and the thought of eating chunks of over-cooked, crumbly feta makes me slightly nauseous. Whoever decided that feta needs cooking just doesn't appreciate its natural flavour. If you're craving feta, I'd suggest making a slow-roasted tomato pasta, then lightly crumbling some fresh (uncooked!) feta over the top with some fresh rocket. Let's just stick with the Parmesan, yeah? 
Rating: 1 out of 5
Pasta Chips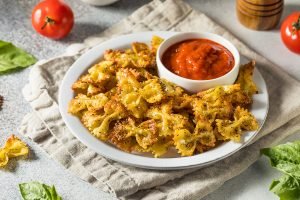 This trend has been hailed as a quick, healthy snack for those low on time. To make the 'chips', you need to boil the pasta (any shape will do), then season, toss in olive oil and either bake in an oven for 25 minutes or in an air-fryer for slightly less time. You can also add things like paprika, garlic powder and Parmesan, for extra flavour, before you pop them in the oven. 
But I just don't see the point of this one. In my opinion, nothing will replace the crispy, cheesy lasagne sheets that curl over the edge of your baking tray after a couple of hours in the oven. Guys, we've taken this too far. 
Rating: 2 out of 5
Baked Oats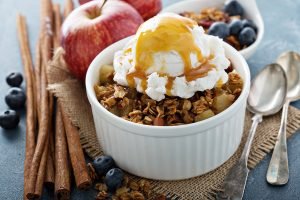 As the name suggests, this involves baking oats in the oven, often with added ingredients such as eggs, cinnamon and mashed banana stirred in, and sometimes things like maple syrup and chocolate chips. Typically, they're baked in ramekins: the result is a crumbly, cake-like breakfast treat.
I think, overall, baked oats are a great, healthy idea, as long as you don't take it too far. Oats have a multitude of benefits including being a good source of dietary fibre (both soluble and insoluble), as well as phosphorus (a mineral needed for healthy teeth and bones), thiamine or vitamin B1 (needed to turn food into energy), magnesium (which supports nerve function), and zinc (which aids metabolism). 
But porridge can be boring if you're eating it every day. For me, the pleasant thing about baked oats is that they develop a sort of crust which resembles a hot flapjack. The addition of egg to the mixture boosts its protein content and I like to pair mine with the various flavours of protein powder that are available from Nature's Truth. 
Lots of the latest recipe videos I've seen for baked oats also include a combination of not-so-healthy ingredients, like chocolate bars and syrups, which obviously is not a particularly healthy option for breakfast. Instead, load up your baked oats with mixed seeds, nut butters and frozen fruit for a really healthy, satisfying breakfast. 
Rating: 3 out of 5
Corn Ribs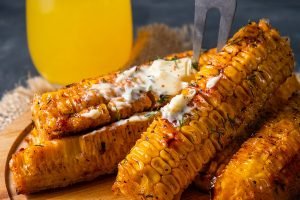 I've made these and I absolutely loved them! Simply take your corn cobs and slice them into quarters lengthways. Then brush them with some oil, plus whichever flavouring you prefer (I like to use harissa paste) and bake in the oven until crisp. They're also perfect for vegetarians and vegans that miss that messy, pick-up-with-your-fingers experience enjoyed with spare ribs. 
Most recipes will tell you that you need an air-fryer to make these, but rest assured, they can be made in a conventional oven. Mine crisped and curled just as well as when they were made in an air-fryer. There is one major downside to this trend though: slicing the cob down the middle is really, really difficult. I have sharp knives and I struggled no end. Not to mention the confetti of corn that was wasted and strewn across my kitchen! Remember to take extra care when slicing to avoid any accidents. 
Rating: 4 out of 5
Vodka Pasta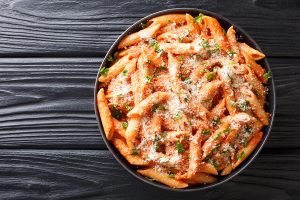 This idea involves adding vodka to a classic tomato and cream pasta sauce, often with a few chilli flakes added, too. The comments online include: 'You can't taste the vodka!', 'It's a waste of the good stuff!' and even 'Just use wine!' However, in my opinion, it's delicious and I'll certainly be making it again. 
I don't know whether the vodka imparts any extra flavour or whether it enhances anything that wine doesn't. I've read that the vodka balances the flavours and helps the sauce to come together, but quite frankly I don't care. This is a creamy, spicy sauce with a tangible lightness that I won't risk by forfeiting the vodka, whether it's needed or not. 
Rating: 5 out of 5 
Discover more nutrition advice and recipes from Ollie Downey here.