Ever wondered how to use turmeric? Try these recipes
You may think that turmeric is just that yellow dried spice sitting right at the back of your kitchen cupboard, or something you chuck into a midweek curry. But did you know that turmeric is potentially a nutritional powerhouse?
Turmeric actually comes from the same family as ginger and is the root of a tropical flowering plant – it's traditionally been used in fabric dyeing, cosmetics and traditional Chinese medicine, as well as for cooking.
You can use fresh turmeric in your meals for a more earthy flavour, if you can find it in your local supermarket or grocer's – just use slightly less than you would the dried stuff. A good rule of thumb to remember is that approximately 1 teaspoon of dried turmeric is equal to about 3 teaspoons of fresh.
The active (and therefore most potentially beneficial) part of turmeric is curcumin, which is what gives the spice its vivid golden colour. As well as its distinctive hue, curcumin is a potent antioxidant that's being studied in relation to its effects on inflammation, heart disease and various eye conditions. One study found interesting results – it showed that if you combine turmeric with black pepper when consuming it, our bodies are able to absorb much more of the good stuff (the curcumin).
Some research has also suggested that exposing turmeric (in particular curcumin) to heat might even enhance its overall antioxidant properties (though avoid cooking it for too long, as this could reverse the effects). I've shared a few recipes below so you can begin incorporating more turmeric into your diet.
Also read: Why is turmeric so good for us?
Turmeric Fried Eggs
Serves 2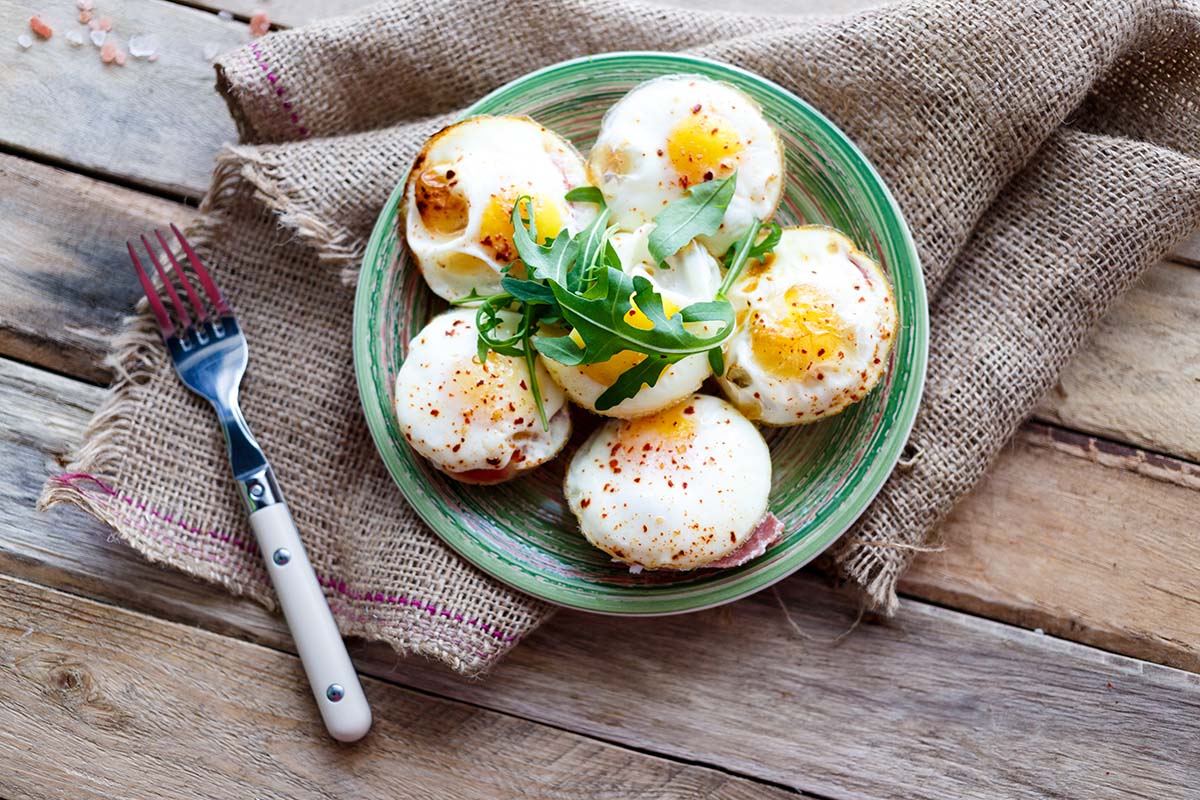 I make these all the time. I sometimes like to turn the heat up right at the end to get those crispy edges.
Nutrition per serving
Calories 146
Fat 12.5g
Carbs 1.4g
Protein 6.5g
Ingredients
1 tsp olive oil
1 tbsp butter
2 cloves garlic, peeled and finely chopped
1 heaped tsp dried turmeric (or 3 tsp of finely grated turmeric root)
2 large free-range eggs
Fresh coriander leaves and sourdough, to serve
Method
1. Heat the oil and butter (the oil will stop the butter from burning) over a medium-high heat in a small non-stick frying pan.
2. Add the chopped garlic and cook it for about a minute, stirring, until softened but not browned.
3. Sprinkle the turmeric over the butter and garlic and gently mix it in with a wooden spoon.
4. Turn the heat down to low, then crack in your eggs. Spoon the butter over the egg whites until they are completely set.
5. Once cooked, remove the eggs with a slotted spoon and serve with coriander leaves on top and some crusty sourdough.
Creamy Salmon & Prawn Curry
Serves 4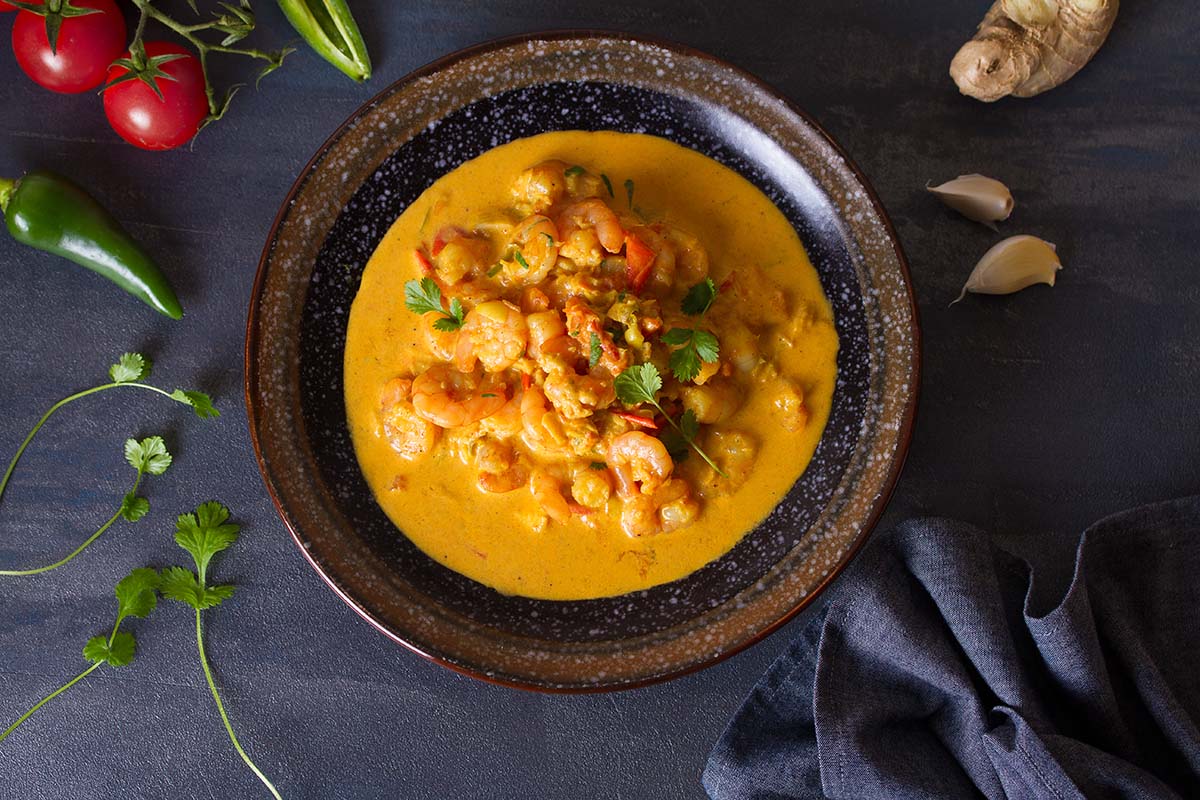 This is the perfect high-protein curry. If you prefer chicken, opt for that instead, but i love this seafood flavour combination.
Nutrition per serving
Calories 364
Fat 19.1g
Carbs 7.9g
Protein 38.1g
Ingredients
1 tsp olive oil
1-2 onions (peeled and finely sliced)
3cm ginger, grated
3 cloves garlic (peeled and finely grated)
1 heaped tsp dried turmeric (or 3 tsp of finely grated turmeric root)
1 tbsp garam masala
1 x tin coconut milk
3 skinless salmon fillets (or lean white fish)
165g raw king prawns
4 large handfuls baby spinach
1 red chilli (finely sliced)
½ bunch fresh coriander (leaves torn)
Method
1. Heat the oil in a large non-stick frying saucepan over a medium heat and fry the onions until softened, for around 5 minutes.
2. Add the ginger and garlic and fry for a further 1-2 minutes.
3. Stir through the turmeric and garam masala for one minute until fragrant, then pour in the coconut milk along with 150ml of water and bring to the boil. Turn the heat down and simmer for 8-10 minutes.
4. Add the salmon (or white fish), prawns and spinach and allow to simmer until the salmon and prawns are cooked through. Roughly flake the salmon into large chunks.
5. Serve the fish, prawn and spinach with the red chilli and coriander leaves scattered over the top, and with steamed rice or Bombay-style potatoes.
Turmeric Roasted Cauliflower
Serves 2-3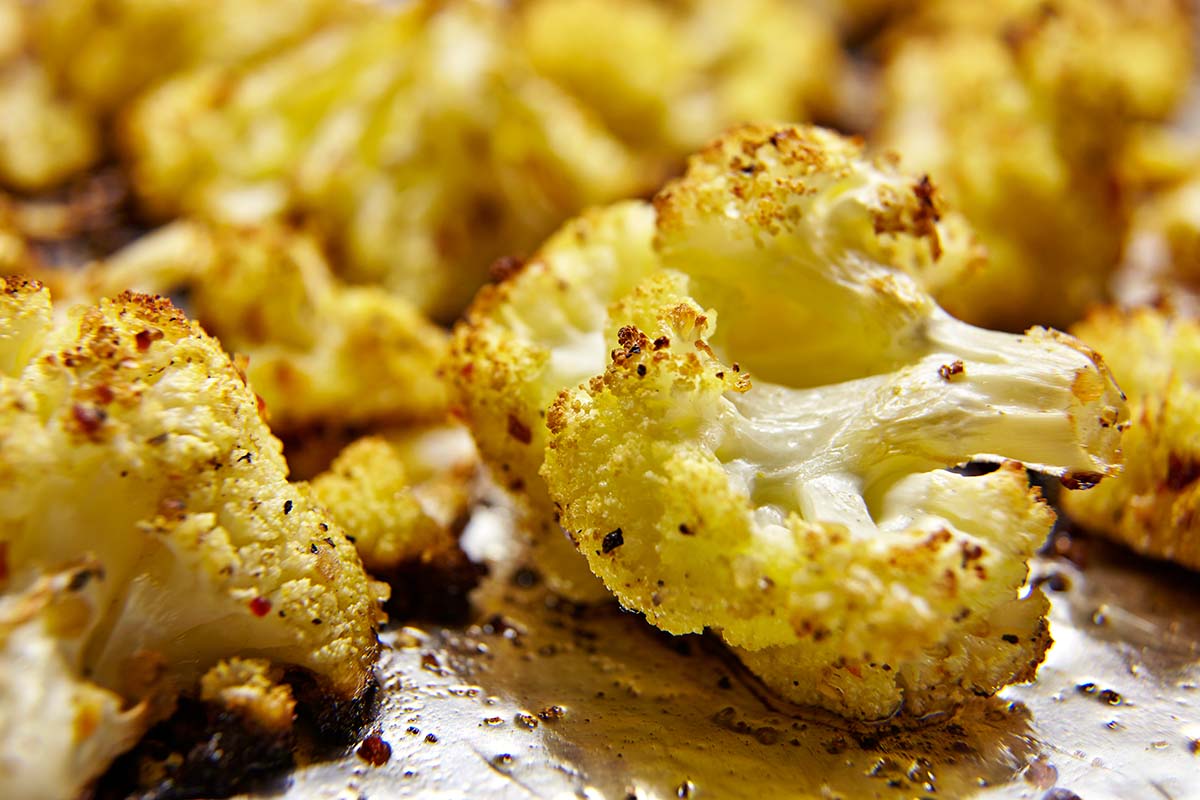 These deliciously healthy cauliflower bites can be eaten as a snack or a side dish. If eating as a snack, simply serve with a cool, creamy dip to balance out the spicy turmeric flavours.
Nutrition per serving
Calories 150
Fat 9.5g
Carbs 15.4g
Protein 3.7g
Ingredients
1 large head of cauliflower
1 heaped tsp dried turmeric (or 3 tsp of finely grated turmeric root)
½ tsp sea salt flakes
½ tsp coarsely ground black pepper
1 tsp chilli powder
1 tbsp runny honey
1 tsp garlic powder
Olive oil, for drizzling
Method
1. Pre-heat your oven to 200C°C/fan 180°C/gas mark 6.
2. Break your cauliflower into large bite-size florets and pop in a bowl.
3. In a larger bowl, combine the turmeric, sea salt, black pepper, chilli powder, honey and garlic. Add a good drizzle of olive oil, then stir together to make a thick sauce.
4. Add the cauliflower florets and toss in the sauce, coating them well.
5. Lay these out evenly on a lined baking tray and bake in the oven for around 40 minutes, until tender but still retaining a slight crunch.
6. Serve with your favourite dip or as part of a larger meal.
Trying any of the above recipes for yourself? Head to Instagram to share your results, tagging @olsfood and @naturestruthuk.