Recipe ideas for your Christmas Day leftovers
Despite the obvious drawbacks, Covid-19 related lockdowns have seemingly ushered in a new age of culinary creativity, and it all began with banana bread. Respect to the banana bread, guys.
And now, it's time to let that creativity shine when it comes to your festive foods. While the exact formula of the perfect roast is a tradition that can't be tampered with in many households, that doesn't mean we can't have some fun with the leftovers.
Here's my controversial opinion: Christmas leftovers are just as good as the main event – if not better. It's the cold meats, stirring cheekily from a foiled plate in the fridge; the arsenal of cheese, whose names are slightly more difficult to pronounce this time of year, which get plonked on anything and everything for a quick mid-snack snack; it's the moment of peace in the kitchen when the havoc and chaos of the day before are over, and now life is just a countdown to New Year's Eve.
But… we still need to have a nourishing meal at least once, right?! I've provided three fool-proof recipes for you to help use up your leftover grub. Hold the bubble and squeak everyone, we can do better.
Easy Turkey and Stuffing Pie
Serves 4-6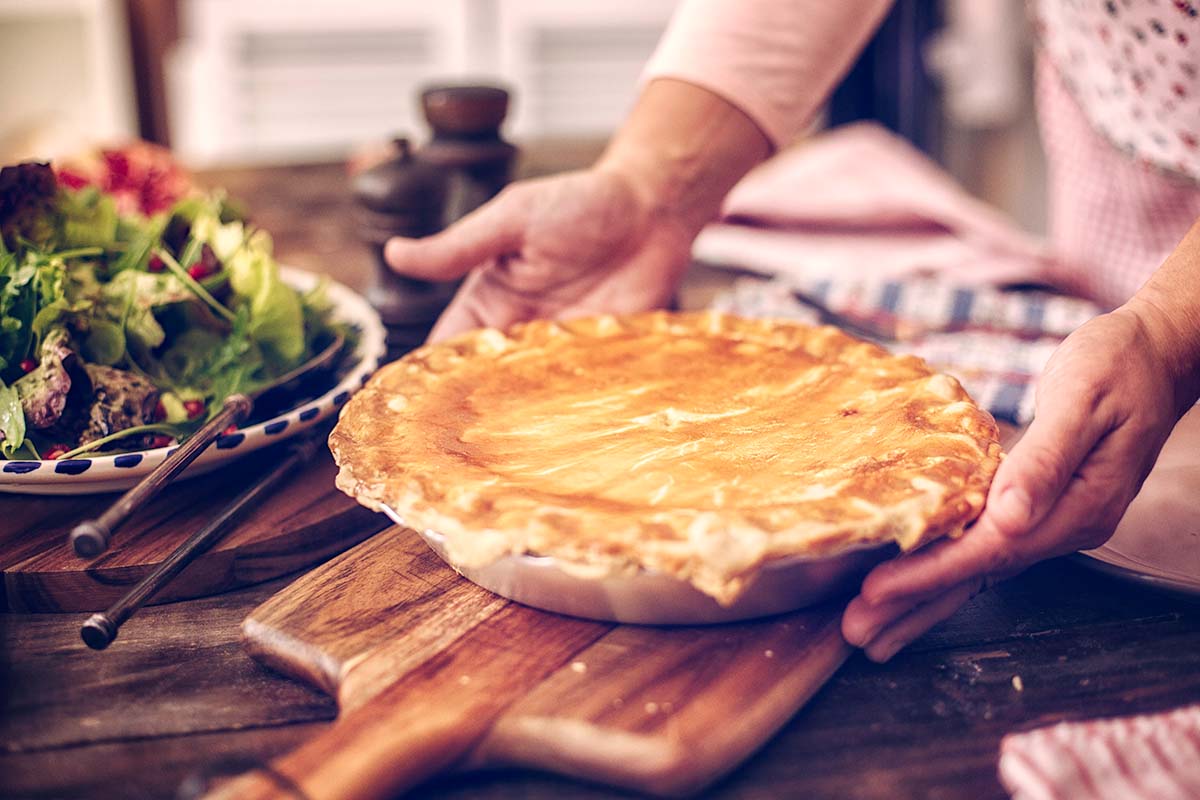 Nutrition per serving:
Calories 512
Fat 19.5g
Carbs 45.6g
Protein 34g
I can't be bothered making my own pastry. There, I've said it. Shop-bought puff pastry is, in my opinion, just as good. Especially at Christmas, I'd rather the extra hour to do other things, like embarrass myself during a round of charades. This is a fool-proof recipe that you'll keep going back to.
It's split into two parts. The filling: you can use whatever you want; and the topping: a sheet of puff pastry. There's no bottom because you don't need one!
Ingredients:
1 tbsp butter
1 tsp olive oil
2-3 medium leeks, trimmed and finely sliced
2 cloves garlic, peeled and finely grated
500g leftover turkey, cut into bite-size pieces
200g leftover stuffing, broken up into small pieces
1 tbsp cornflour
1 tbsp Dijon mustard
300ml chicken (or turkey) stock
Sea salt
Black pepper
100g light crème fraiche
375g ready-rolled light puff pastry
1 egg, beaten
Let's cook!
Pre-heat your oven to 180°C/160°C fan.

In a large non-stick frying pan, melt the butter and oil over a medium heat and gently sweat the leeks for about 6-8 minutes, until softened. 

Add the grated garlic and stir, frying for a further 1-2 minutes until fragrant.

Add the turkey and stuffing pieces and mix through, without breaking it up too much. 

Sprinkle in the cornflour and stir it into the other ingredients for another minute, to cook it out. 

Stir through the Dijon mustard so everything is well coated, then pour in the chicken (or turkey) stock. 

Bring to the boil, then turn the heat down to a simmer and allow to bubble away until the sauce has thickened. Season well with sea salt and black pepper, and stir through the crème fraiche. 

Transfer the mixture to an oven dish. Unroll the pastry, then lay it over the top of the dish, using a fork to crimp the edges tight against the dish. 

Brush the beaten egg all over the pastry, then pop in the oven for 20-25 minutes until golden and puffed up. 

Serve with whichever leftover vegetables you have, or some simply steamed kale and peas.
Festive Vegetable Tart
Serves 8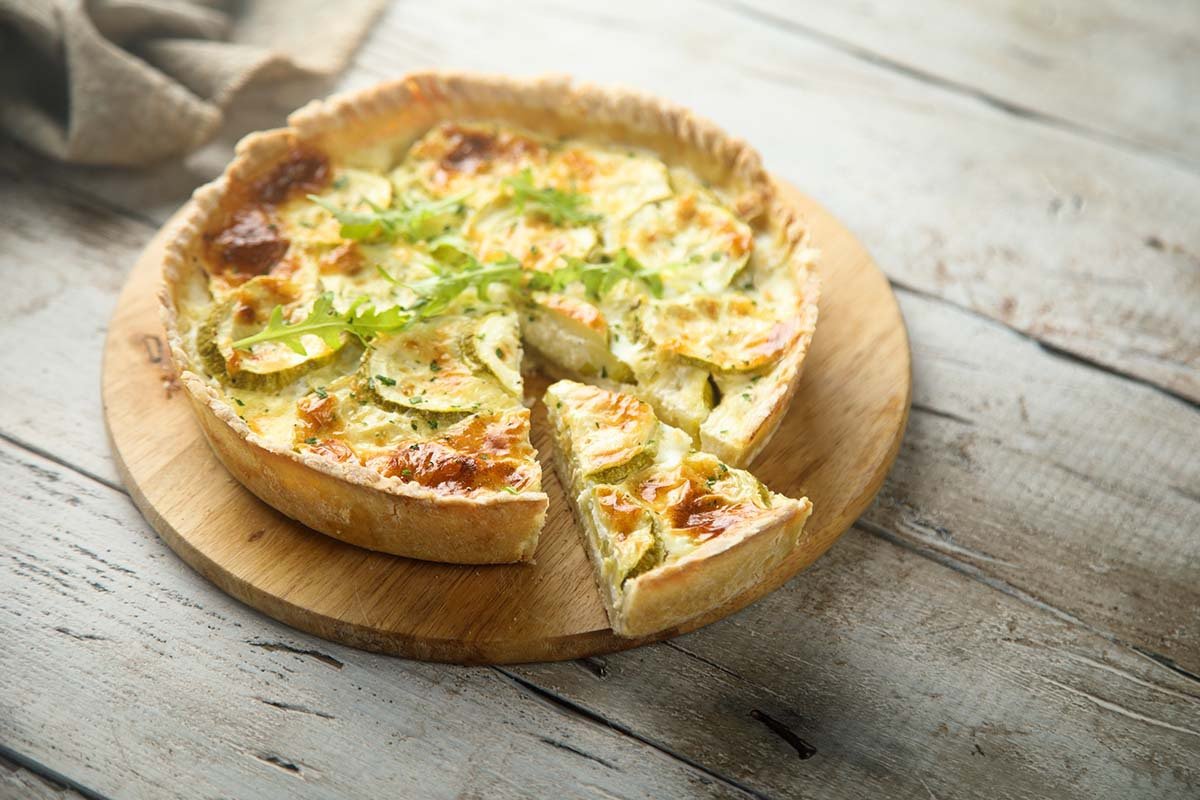 Nutrition per serving:
Calories 267
Fat 17.8g
Carbs 16.7g
Protein 10g
If, like in my house, there's never any turkey left, do not despair. I've created a deliciously simple vegetarian recipe that will keep in the fridge during that period between Christmas and New Year where nobody knows what day it is.
Ingredients:
195g savoury pastry case
300g leftover vegetables (carrots, parsnips, sprouts etc)
110g reduced-fat Cheddar cheese, grated
3 medium eggs, beaten
150ml semi-skimmed milk
210ml single cream
Sea salt
Black pepper
Cranberry sauce, to serve
Let's cook!
Pre-heat your oven to 180°C/160°C fan. 

Lightly flour a large baking tray and place the pastry case on top. 

Mix the cheese (keeping some aside for the top) with the cooked vegetables you're using and fill the pastry case with it. 

In a large bowl, whisk together the beaten eggs, milk and single cream until combined. Season well with sea salt and black pepper. Pour this over the vegetables.

Scatter over the rest of the cheese and bake in the oven for 30 minutes until the egg has set. 

Serve with cranberry sauce. 
Warming Turkey and Potato Curry
Serves 6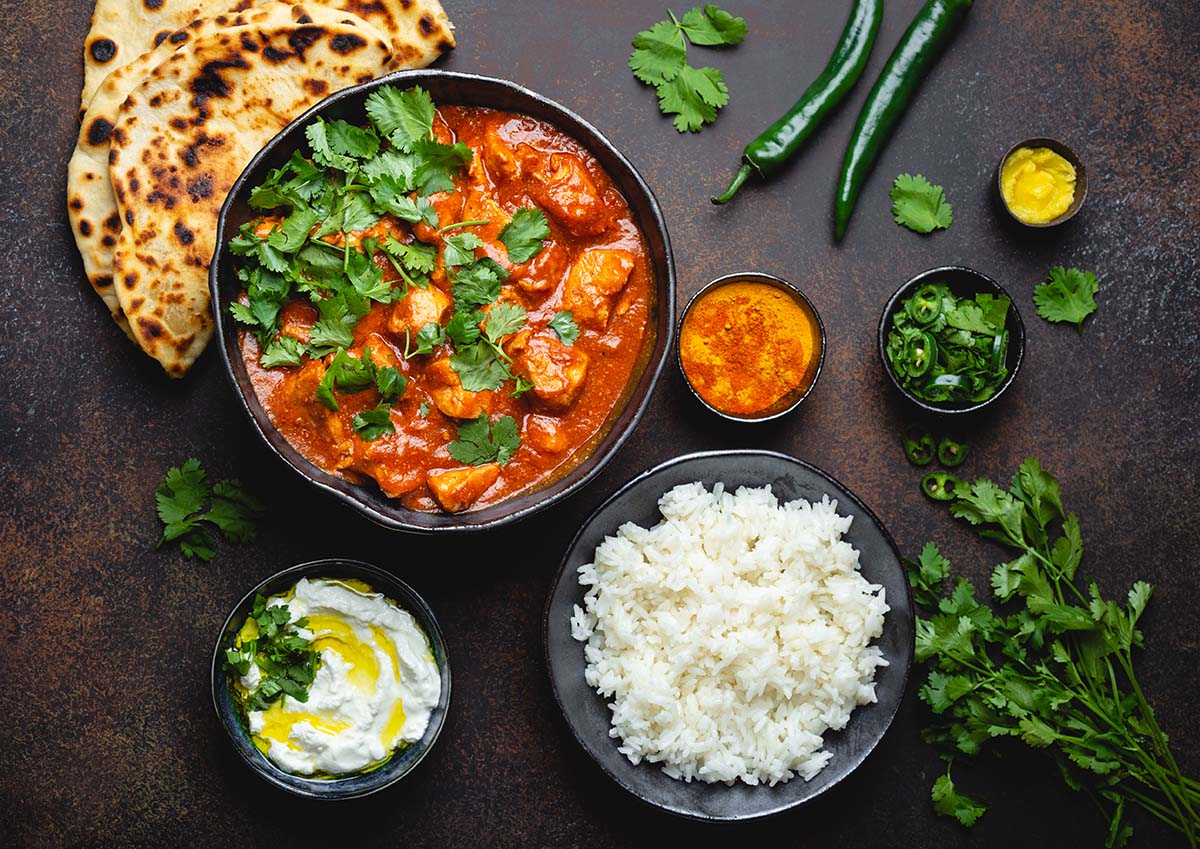 Nutrition per serving:
Calories 308
Fat 7.4g
Carbs 20.8g
Protein 16.8g
I've always loved the idea of being able to create something completely different, using the ingredients you used the day before. That couldn't be more true with this recipe – traditional British roast dinner the day before; aromatic, spicy curry tonight.
Ingredients:
1 tbsp vegetable oil
1 onion, finely diced
1 red pepper, de-seeded and finely diced
2 cloves garlic, peeled and finely grated
1 tsp chilli flakes
1 tbsp curry powder
½ tsp ground turmeric
1 tsp garam masala
400g tin chopped tomatoes
150ml chicken stock
400g leftover cooked turkey, cut into bite-sized pieces
300g cooked roast potatoes, halved
1 tbsp mango chutney
Fresh coriander and yoghurt, to serve
Let's cook!
Heat the oil over a medium-high heat and fry the onion and red pepper for around 4 minutes, until softened and beginning to turn golden. 

Add the garlic, stirring well, and fry for a further 1 minute.

Stir in the spices and cook for another minute, then tip in the chopped tomatoes and chicken stock. 

Bring this to a boil, then turn the heat down and add the turkey and roast potatoes. Allow this to gently simmer for 5 minutes to heat through, then stir through the mango chutney and season the curry well with sea salt and black pepper.

Serve with lashings of coriander leaves and yoghurt. 
Inspired to give any a try? Share your dishes tagging @olsfood and @naturestruthuk, so we can see the results!
See more nutritional advice and food tips from our expert panel here.