What makes us happy? It's a question that can be surprisingly hard to answer. While happiness can mean something completely different to different people, some practices have been shown time and time again to increase feelings of happiness and contentment.
Whether you work through the list or experiment with just one lifestyle change that calls out to you, see our five top tips for boosting your overall happiness.
Start volunteering
Volunteering doesn't just make things better for the people or groups that you're helping – it's shown to make you feel happier as well.
Even if it involves giving up some of your free time, doing something useful in your community, or for a cause you care about, is likely to improve your mood.
It might mean helping out at a food bank, cleaning up your local beach, park or patch of countryside, or joining a charity that offers mentoring or befriending. The ways that you can volunteer are almost endless – but the benefits are well-documented.
As well as making us feel more productive, volunteering is often a group social activity, which means it fosters social connections that benefit mental health and help ward off loneliness.
Helping others could even benefit our physical health, too. One US study published by the American Psychology Association found that adults over the age of age 50 who volunteered on a regular basis were less likely to develop high blood pressure, which can lead to heart disease.
Keep a gratitude journal
If you think keeping a diary sounds like something you don't have time for, you might want to reconsider.
A number of studies suggest that the practice of gratitude journalling – reminding ourselves of the things in life that we're thankful for, then writing them down – can be beneficial for our mental health.
There are a growing number of notebooks and apps that have been created specifically to help you keep track of what you're grateful for – whether that's small wins like having a good hair day, or the fundamentals, such as enjoying good health.
Keeping a gratitude journal can be as simple as jotting down three things that you're glad about every day. Try recording them at the same time – for example, just before bed, or first thing in the morning. Give it a try, and it could become a habit that sticks, and makes you happier in the process.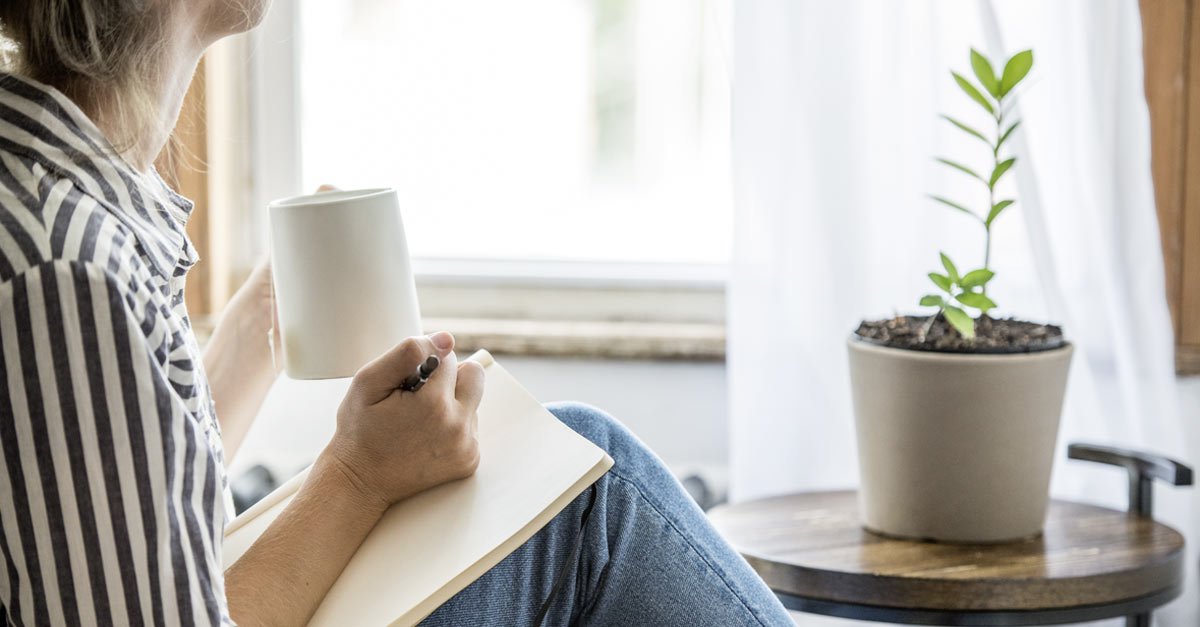 Try Nature's Truth Pure Happiness Essential Oil
If you thought you couldn't bottle happiness, think again. Nature's Truth Pure Happiness is a blend of essential oils that you might find have mood-boosting benefits. It includes the uplifting, energising notes of fruits including tangerine and grapefruit, as well as refreshing peppermint and more grounding, earthy scents such as cedarwood and nutmeg.
Try fragrancing your room with a fine mist using a diffuser or adding a few drops to your bath water. Alternatively, simply twist off the cap and take a moment to inhale and enjoy the scent.
In general, taking time out to connect with the sensory benefits of aromatherapy could be a new way to add some happiness-boosting habits to your daily routine.
Add more movement into your daily life
An inactive lifestyle, with too much desk-time, is all-too easy to slip into. However, it can store up all manner of physical health issues, from poor posture to weight gain. Put simply, human bodies were made to move.
However, we don't just need to get our heartbeat racing for our physical health: exercise is a key part of self-care when it comes to supporting mental health and wellbeing, too.
Regular exercise boosts levels of the 'good mood' hormones dopamine and serotonin, and for some people, physical activity is shown to lower the risk of developing depression and anxiety.
Your exercise routine can be combined with other factors, such as spending time outdoors in nature (see below), listening to music (plug in those headphones), or taking part in a shared activity with others (like joining a running club) – all things that are great for boosting your mood.
Spend time outdoors
It's easy, it's free, and it's definitely good for your health and happiness, but many of us simply don't spend enough time outdoors, even if we'd like to. However, there's much to be gained by getting outside, even if it's only for a small part of your day.
Factoring in more ways to spend time outside as part of your regular routine – for example, walking through a local park – could be enough make a meaningful difference to your wellbeing. Research suggests that spending as little as 20 minutes in a local green space can be beneficial for your mental health.
Looking for new ways to boost your self-care routine? Browse our anxiety and stress easing product selection and other essential oils.