Natural ways to relieve a migraine 
Experiencing a migraine is different from simply having a headache. A migraine is typically a more severe headache that lasts for longer (for a few hours or even days), often felt on one side of the head and forehead. It is sometimes preceded by an 'aura', sensory disturbances that often affect your vision – for example, seeing flashing lights or experiencing blind spots. That's why you might hear people refer in medical terms to migraines 'with aura' and 'without aura'. 
For some people, a migraine may also be accompanied by symptoms such as increased sensitivity to light and sound, feeling sick or even vomiting. 
According to NHS England, around one in five women and one in 15 men experience migraines. The causes of migraines are not yet clear, but they could be the result of temporary changes in the nerves, chemicals and blood vessels in the brain.
Some people who suffer from migraines also find they have a particular trigger, such as getting their period, feeling stressed, being very tired or eating certain foods. A propensity to have migraines can also run in families. 
Do painkillers treat migraines?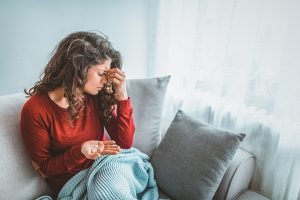 One way to treat the pain of a migraine is with over-the-counter painkillers such as ibuprofen or paracetamol. However, not everyone will want to do this, or they might not wish to do so every time, particularly if the headaches or migraines are frequent. (It may also not be recommended for some people to take certain painkillers: for example, if you have stomach, liver or kidney problems.)
If you are experiencing migraines, speak to your doctor, who can advise on possible causes and safe levels of pain relief. 
Are there any natural ways to treat migraines?
There are lots of ways to respond to a migraine and to attempt to manage it – one of the most instinctive responses is to lie down in a dark, quiet room. However, to date, there is no single cure for migraines. 
One way to respond to migraines could be pro-actively seeking treatment of some kind before the migraine starts, or seeking to remove the triggers that cause your migraines, such as eating certain foods or drinks. However, this is obviously harder with certain triggers, such as stress or having your period. 
The best natural ways to relieve migraine pain 
PEA in Nature's Truth Levagen+